Greetings, Xin Chao!
I'm Michael, and my unyielding enthusiasm for adventure and my relentless passion for discovering new frontiers have propelled me on extraordinary expeditions, traversing the exquisite landscapes of Vietnam. From the awe-inspiring Northwest to the commanding Northeast, from the unspoiled white sandy shores of Mui Ne to the vast coffee plantations in the Central Highlands, and from the lively streets of Saigon to the lush tropical fruit orchards of the Mekong Delta, I've explored far and wide, all while riding a classic Vespa.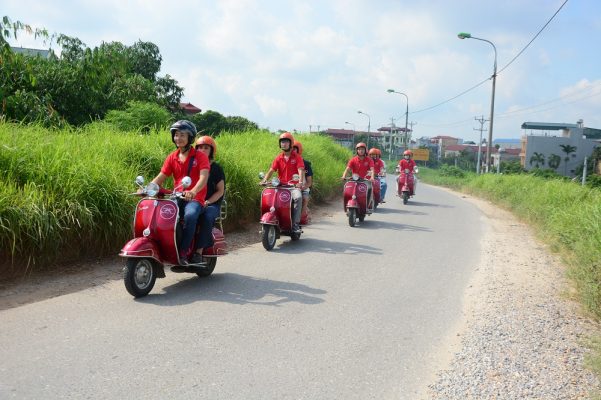 My journey in the tourism industry began in 2009 when I started freelancing for various travel companies, guiding travelers through the enchanting landscapes of the North and Halong Bay. In 2010, I joined a reputable adventure company as a tour leader, opening the door to incredible encounters with remarkable individuals, the discovery of awe-inspiring landscapes, and the creation of unforgettable memories.
I am David Nguyen, born in 1989, and I have been fortunate enough to dedicate nearly a decade to the travel industry. My fervent passion revolves around transforming my love for Vietnam into a fulfilling career that enables travelers to delve deeper into our country's culture, history, and picturesque landscapes. Throughout my journey, I have worked with a multitude of domestic and international travel companies, gleaning invaluable insights into travelers' desires and needs when exploring Vietnam. This experience has equipped me with the knowledge and expertise to conduct trips with the utmost professionalism and responsibility.
The culmination of our shared passion and vision led to the establishment of Asia Vespa Tours in 2014, where we continue to invite travelers to embark on transformative journeys through Vietnam's vibrant tapestry.
Authentic Experiences
At Asia Vespa Tours, we specialize in providing a window into the daily lives of working-class Vietnamese people. Our tours traverse the vibrant tapestry of Hanoi, from bustling markets and local kitchens to the serene countryside and meandering city streets. We're passionate about sharing our deep knowledge of Hanoi, and we believe that experiencing the city as a pillion passenger, guided by our seasoned team, is a truly unique and authentic adventure.
Culinary Discoveries
Our tours are not just about sightseeing; they're a culinary journey as well. We take you to family-run eateries that often escape the notice of tourists, where you can savor a diverse array of local cuisine. Our expert tour guides introduce you to each dish, its ingredients, preparation techniques, and cultural significance. It's a feast for the senses that offers a profound connection to the city's culture.
Immersion in Hanoi's Realities
At Asia Vespa Tours, we believe in immersing travelers in the true essence of Hanoi. Riding as pillion passengers on vintage Vespas, you'll navigate a maze of backstreets and zigzagging alleyways that unveil the authentic Hanoi, including its challenges and triumphs. While other travel companies may focus on tourist sites, we embrace the full spectrum of experiences, from the good to the bad and even the ugly, because they are the real essence of the city.
Sensory Exploration
Exploring Hanoi with Asia Vespa Tours means engaging all your senses: watching, feeling, touching, hearing, tasting, and smelling the unique essence of this place. Our tours offer an opportunity for travelers to step out of their comfort zones, open their hearts and souls to the full spectrum of experiences – the delightful and the challenging.
Unique Products and Passion
What sets Asia Vespa Tours apart in the travel market are our meticulously crafted products. Each experience is designed to deliver an authentic travel encounter, complete with the diverse facets of Hanoi – the good, the bad, and the ugly. Our foundation is built on passion and love for Hanoi, which is the driving force behind our unique products. Choose Asia Vespa Tours to embark on a journey guided by genuine passion, creativity, and a deep appreciation for the authentic Hanoi experience.
Let us share the beauty of Vietnam with you.
Asia Vespa Tours Team
HANOI MOTORBIKE TOURS – HANOI VESPA TOURS – HANOI BICYCLE TOURS – HANOI JEEP TOURS